Camera-Based and Mobile Recognition
As more and more machine vision tasks from the industry focus on the analysis of images taken using consumer devices, such as smartphones, camera-based image analysis continues to be an important area of research. Uncontrolled capturing environment and unknown hardware bring challenges and the need to develop new approaches in order to elevate computer vision technologies to practical applicability. In such fields as personal identification and document processing, privacy and security concerns require autonomous image processing, which issue computational requirements for the machine vision methods, and places restrictions to the size of neural network models. We invite to this track specialists both in software and hardware to discuss the mentioned problems and the approaches to solving them.

The sessions covers (but is not limited to) papers on

– Image Normalization and Camera Calibration
– Camera-based Object Detection and Recognition
– Energy Consumption-aware Machine Vision
– Computationally Effective Machine Learning
– Object Tracking and Stabilization
– Real-time Video Stream Analysis
– Anytime Algorithms for Camera-based and Mobile Recognition
– Real-time Cooperative Scenarios in Machine-aided Recognition
– Image Analysis and Recognition in Uncontrolled Conditions
– Post-capture Image Fraud Detection
– Relevant Quality Metrics and Datasets

Chairman: Dr. Konstantin Bulatov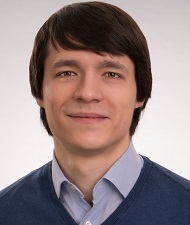 Konstantin Bulatov was born in Petrozavodsk, USSR, in 1991. He received a Specialist degree in applied mathematics from the National University of Science and Technology "Moscow Institute of Steel and Allows" in 2013 and the Ph.D. degree in computer science in 2020. Since 2014 he has been working at the Institute for Systems Analysis of Russian Academy of Sciences (currently Federal Research Center "Computer Science and Control"), and since 2016 he is a head of development of Smart Engines. He is also an Associate Professor at the Moscow Institute of Physics and Technology. His primary fields of study are computer vision and document recognition and analysis systems.

Important Dates